Contents: Recent results, Projects, Bio, Other


---
Recent results
| | | | | |
| --- | --- | --- | --- | --- |
| 2021-11-25 | Eastside Turkey Trot (5k) | Oregon, OH | 15:34 | 1st |
| 2021-10-10 | Boulderthon (half marathon) | Boulder, CO | 1:16:17 | 3rd |
| 2021-09-11 | Waneeka Classic 5k | Lafayette, CO | 16:08 | 2nd |
| 2020-01-26 | Yeti Chase (10k) | Lakewood, CO | 34:29 | 1st |
| 2018-11-22 | East Side Turkey Trot (5k) | Oregon, OH | 15:27 | 2nd |
| 2018-07-04 | Paul Revere 10-Miler | Harbor Springs, MI | 54:02 | 1st |
| 2018-04-16 | Boston Marathon | Boston, MA | 2:57:09 | 1323rd |
| 2018-02-04 | Super Sunday 5-Miler | Cambridge, MA | 25:11 | 8th |
| 2017-12-03 | California International Marathon | Sacramento, CA | 2:28:36 | 95th |
| 2017-11-23 | East Side Turkey Trot | Oregon, OH | 15:39 | 1st |
| 2017-09-17 | Cursa de la Mercè 10k | Barcelona | 31:07 | 4th |
| 2017-07-04 | Paul Revere 10-Miler | Harbor Springs, MI | 53:15 | 1st |
| 2017-06-25 | BAA 10k | Boston, MA | 33:14 | 28th |
| 2016-02-13 | USA Olympic Trials Marathon | Los Angeles, CA | DNF | DNF |
| 2015-12-12 | USATF Club XC Nationals (10k) | San Francisco, CA | 30:45 | 42nd (team 2nd) |
| 2015-11-26 | East Side Turkey Trot (5k) | Toledo, OH | 14:43 | 1st |
| 2015-11-08 | USATF New England Club XC (10k) | Franklin Park, Boston, MA | 31:58 | 17th (team 1st) |
| 2015-10-31 | Philadelphia Rock n' Roll Half M | Philadelphia, PA | 1:04:50 | 21st (OT qualifier) |
| 2015-08-16 | Falmouth 7-miler | Falmouth, MA | 35:41 | 15th |
| 2015-08-01 | Beach to Beacon 10k | Cape Elizabeth, ME | 30:25 | 14th |
| 2015-06-21 | BAA 10k | Boston, MA | 32:01 | 20th |
| 2015-04-18 | BAA 5k | Boston, MA | 15:21 | 23rd |
| 2015-01-25 | Greater Boston TC Invite (Mile) | Harvard track, Boston, MA | 4:15.09 | 1st |
| 2014-12-13 | USATF Club XC Nationals (10k) | Bethlehem, PA | 30:37 | 58th (team 2nd) |
| 2014-11-25 | East Side Turkey Trot (5k) | Toledo, OH | 14:45 | 1st |
| 2014-11-09 | USATF New England Club XC (10k) | Franklin Park, Boston, MA | 31:20 | 14th (team 1st) |
| 2014-10-26 | Mayor's Cup (8k) | Franklin Park, Boston, MA | 25:02 | 19th (team 1st) |
| 2014-09-20 | Philadelphia Rock n' Roll Half M | Philadelphia, PA | 1:10:54 | 41st |
| 2014-08-03 | High Street Mile | Newburyport, MA | 4:11.3 | 4th |
| 2014-06-22 | BAA 10k | Boston, MA | 30:48 | 10th |
| 2014-04-19 | BAA 5k | Boston, MA | 14:53 | 17th |
| 2013-10-13 | BAA Half Marathon | Boston, MA | 1:08:19 | 15th |
| 2013-09-15 | Whole Foods Market 5k | Cambridge, MA | 14:33 | 2nd |
---
Projects
xcquals.com - a website for you to project the NCAA D1 cross-country national championship qualifiers, by plugging in your own projected regional results. Uses the below program...
Source code for xcquals. A program, written in python, for determining which teams will make it to NCAA D1 XC national championships. Note THE PROGRAM COULD BE WRONG. I add in the season results, then update the regional results and run it to get a guess about the qualifiers. However, in case of B teams throughout the season that I'm not aware of, or many other unforeseen possibilities, it could screw up.
---
Bio
High School (Fall 2003 - Spring 2007): I went to Maumee High School in Maumee, Ohio, where I ran cross country and track. I ended up with PRs of 4:15 for 1600m and 9:09 for 3200m. My senior year I placed second in the state meet at 3200m.

College (Fall 2007 - Spring 2011): I was a Duke Blue Devil with a great group of teammates, coached by Norm Ogilvie. In 2010 we placed 21st at the DI NCAA Championships in cross-country. Individually, in 2011 I qualified for the NCAA 10000m final in outdoor track, placing 21st. In my time at Duke, I was named COSIDA Academic All-America, 4-time All-ACC in cross-country, All-ACC in the indoor 5k, and twice ACC Male Scholar-Athlete of the Year (2010 Indoor Track and 2010 XC).

My college (and still current) PRs:


Post-collegiate: Sporadic training and racing; joined the Boston Athletic Association (BAA) in fall of 2014, competing on their team for the club cross-country national championships.
In fall 2015, I ran 1:04:50 for the half-marathon to qualify for the 2016 US Olympic Trials marathon on February 13, 2016. Unfortunately, I overheated and dropped out at mile 20 unable to continue. :( Since then I have been dealing with injuries but hoping to make progress toward a comeback.

Update June 2017: in physical therapy and back to training consistently.



---
Other
The gif of my skeleton running at the top of the page (see it in video format) is courtesy of Professor Dan Lieberman and the Skeletal Biology lab. The video was made when Dr. Lieberman was interviewed on Sanjay Gupta's show on CNN; I was the lab rat. See the segment.

Here's a screenshot of me in an ad for the Atlantic Coast Conference you may have seen if you watch much football or basketball: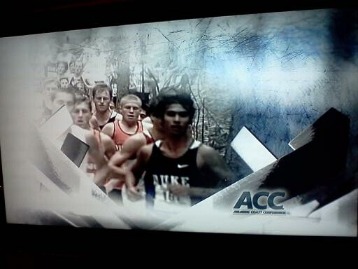 The lead pack during the 2009 ACC XC Championships my junior year at WakeMed Park, Raleigh NC (with photo credit to PrettySporty):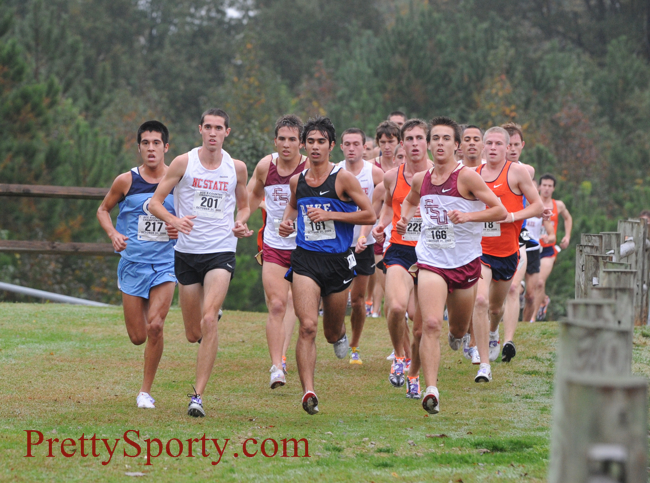 Running Links